---
---
ABC aura toujours une longueur d'avance sur TF1 – en ce en dépit d'une très belle nouvelle version du site TF1.fr.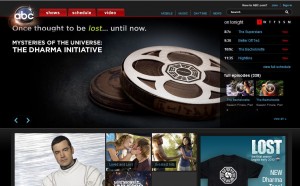 ABC lance cette semaine la version BETA de son site avec :
Une véritable "community experience" : les contenus les plus populaires, et choisis par la communauté qui remontent sur la page d'accueil pour créer une UGC mosaique.

Une navigation simplifiée et la Catch-up TV intégrée à  l'expérience

Et des contenus toujours plus exclusifs.
En exclu pour vous adorateurs de Lost, la mini-série  "Mysteries of the universe" qui vous donnera quelques réponses sur le Dharma Initiave.
---